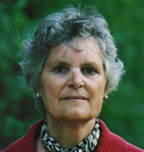 Seattle Times, Sunday, May 25, 2003
Food for the Body Can Nourish the Soul
©2003 Valerie Kreutzer
It's  almost 11 on a Wednesday morning, and the whole basement is cooking. Within a few minutes, the doors of the little church at Madison and 23rd will open to the homeless.
We've been at it since 8 o'clock, and now the tables are set. Food steams in containers. A mountain of hot and buttered cornbread makes your mouth water.
At 11, men and women crowd around the table for a short prayer. At the Church of God in Christ, prayer and compassion are part of the diet, I have learned since my first visit to the basement.
I had stumbled upon the "Free meals for the homeless" sign coming from yoga at the YMCA. I was still new in town and just retired. I wondered whether this would be an opportunity to volunteer.
"Come on the fourth Wednesday," said Gladine Gray, perusing her kitchen calendar. And so I came and have kept coming, now into my sixth year.
We laugh when we recall our first encounter. My yoga tights looked out of place amidst the women who prefer dresses and skirts. Our color and hymnals didn't match, and Gladine rightly suspected that I couldn't cook for 70 people on a shoestring.
She couldn't either when she started the lunch program nine years and thousands of meals ago. She had seen a need in the church's neighborhood and started cooking because "it was time for me to step out of my personal comfort zone." She decided not to draw on food banks and asked her congregation for help and financial support. Her husband, Pastor Edgar Gray Jr., and church members have come through for her.
When I joined the kitchen's sisterhood, it took a while to become part of the easy banter and outrageous laughter that punctuates our hours of preparation. We usually start with a hug and "how've you been," easing into the litanies of our daily lives while stirring pots and bending over a temperamental stove.
First comes the news: One sister is in the hospital, another has no means of transportation since her car broke down. But one sister, a grandmother, has a new good man in her life, praise the Lord! Talking and listening, we discover common ground.
The way Gladine and I scrape pots for the last morsel of food, for example, shows that we both learned early to stretch resources. I in wartime Germany, and she in Arkansas as one of seven children of a coalmining father who died young. As I learn more about my sisters' lives, I let them know bits of mine.
"Last Sunday we had some German visitors," Pastor Gray informs me with a smile. "They said they wanted to hear some real gospel music." Yes, I know about my former compatriots' curiosity, I tell the pastor. Germans love the culture of gospel music but may not believe every letter of the words. Around the kitchen we've ignored my dilemma and have kept talking. My sisters always listened with sympathy when I reported the latest wrinkle in my adolescent daughter's wrinkled life.
And then the unthinkable happened.
"Maria died in a car crash last night," I sobbed into the phone, canceling my Wednesday. "Let me get Pastor Gray," said Gladine.
He prayed with me and shared some ancient wisdom that had sustained him in his own times of tragic loss. His compassion was comforting. So were the cards and flowers from the kitchen crew.
When I returned, I freely cried for months while chopping onions. I lived in my bubble of grief and hardly listened when told that one of our regulars had died. He had pitched his tent by the highway, and one night his candle ignited an inferno.
Many of our patrons have come for years. Some pass through on their shuttle between a rock and a hard place. But once in a while, someone bids us farewell. Like the man who had found religion and waved a letter from his young son, promising reconciliation. He was leaving for Alabama and a bible school. "God is good," he beamed.
"Yes, God is good," Gladine agreed.
"With some clarification," I mumbled, just for her to hear. Facing me, warm laughter rippled through her from deep down, echoing the lightness of her being.
I'll stick around. Some of this laughter and lightness may yet rub off. Meanwhile, when asked, "How've you been?" I practice saying, "Blessed."