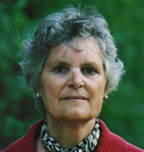 The Seattle Times, Sunday, June 2, 2002
Requiem for a Letter
©2002 Valerie Kreutzer
In my family, my oldest sister is the only person who still writes letters regularly.  Written in ink on legal-size paper, they are four pages long and decorated with pressed flowers in the right-hand corner.
Beate lives in the Black Forest in Germany and picks the flowers on her summer hikes through mountain meadows.  After pressing and drying them, she sorts them according to color in little compartments of a wooden box.
Before she starts writing, she picks flowers for a bouquet—a different composition for each letter.  "My signature," she once explained.
Her light blue airmail letter with red and navy edges and commemorative stamps arrives in my mailbox within a short week.  It's usually the only personal letter amidst the magazines, advertisements, and pleas from do-good organizations.  "Dear Ms. Kreutzer," their computer addresses me very personally, making me wonder which organization sold them my name and bleeding-heart reputation.
When I spot Beate's letter, I drop my shopping bags, including the ice cream, and begin to read.  There is a rhythm to her writing: She thanks me for my letter and  responds to my news; she gives me an update on her life, expresses strong opinions over current affairs, lets me know her sorrow over the death of a dear friend, and tells me about a wonderful weekend with the grandchildren.
Her letter will linger for a week on my coffee table.  Once I respond, I can count on an answer complete with flower bouquet within two weeks.
As I said, Beate is the last letter writer in my clan.  My two other sisters, also seniors, bought computers and have mastered the art of e-mail.  My sister Heidi enthuses:   "When I hear 'Sie haben Post' (You've got mail) it's like finding an egg in the Easter basket."  Her chatty e-mails disappear with the click of a button.  My sister Claudia's messages from Vancouver Island are always practical, advising which ferry to take and not to forget the hiking boots.
Does anyone care that we are contributing to the death of a genre?  Does anyone remember how precious letters were in times past?  As documents, letters have often given us clues about events and relationships.  Letters from pioneering women, from prisons and embattled trenches are peeks into struggles of endurance and survival that have enriched our historical perspective.
And what about love letters of which some of us still have ribboned bundles fading in the attic?  Lest we forget how to write them, the U.S. Postal Service provides us with a precious sample.  For fifty dollars you can have a copy of John Adams' love letter to Abigail, a framed piece of parchment with a quill, complete with 34c Love stamps.  John and Abigail's tender relationship, as we know, blossomed into a genuine partnership, with Abigail writing every day to the husband who would become the second U.S. president.  While John fought manly for our country's independence, Abigail gently admonished:  "Remember the ladies!"
These days, lovers often meet in the anonymity of the chat room.  I know some who even got married, at least for a while.  The fleeting nature of our relationships is in line with the on-line messages that are so easily deleted.  We may marvel at the speed and low cost of our missives, but they are short on the musings that characterized the letters of yesteryear. 
But let me pause in my ranting to dash off a few e-mails and then compose one more old-fashioned letter.  Because even after the postage increase at the end of June, letters are still the cheapest and greatest gift to give and to receive.
Why not write one,
in memoriam!