Tri-City Herald, Sunday, Sept. 22, 2002
Bewitched by the Black Forest
©Valerie Kreutzer
Germany's famous region has thermal baths, hiking paths, and a rich heritage.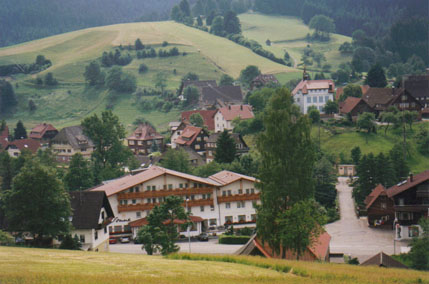 When I came to America at 22, I would have been hard pressed to tell you much about what I'd left behind. Growing up in Germany's Black Forest, I had taken beauty for granted: forested mountains, gurgling rivers, red-roofed little towns nestled into lush valleys—what's there to talk about? It took distance and homecomings to fully appreciate silva nigra, the Roman's term for the Black Forest.
"Dark and dangerous" the Romans described this region in Southwestern Germany, an area that extends for 110 miles from north to south, and 35 miles from east to west. They had come to conquer the Germanic tribes during the first century A.D. and left two enduring gifts behind, the art of cultivating wine, and a love for thermal baths.
During the Middle Ages, monasteries formed the first islands in the dense forest. Settlements that followed drew on natural resources and soon supplied logs on waterways for Holland's shipbuilding industry.
It must have been during those long and snowed-in winter evenings that someone carved the first cuckoo clock, named after the little bird that announces all hours of the day with a musical third. Cuckoo clocks and Black Forest cherry cake are probably the region's most popular emblems.
I was a teenager when I moved with my parents from Berlin to Pforzheim in the Northern Black Forest. Allied bombing had almost wiped out the town during World War II, and my father built a church out of one of the heaps of rubble. Today, Pforzheim is very modern with few reminders of its past. It is known for its watch and jewelry industry; the goldsmith academy is world-famous, and the city's jewelry museum shows off priceless pieces from five millennia.
Pforzheim is also the starting point for three famous hiking paths that take you leisurely in less than two weeks to Basel, Switzerland. Burg Rabeneck near Pforzheim, is a good place to start the trip. The castle, converted into a youth hostel, offers inexpensive accommodation to hikers of all ages. "Book early," advises Walter Schnobel, the castle keeper. Between April and August he presides over a full house.
I've hiked portions of the paths often with my sisters. We'd go for two or three days, just carrying a few necessities in a backpack. We'd hike along mountain ridges, through valleys, and around lakes. At lunch, we'd picnic by one of the frequent Kneip wading pools, fed by ice-cold streams. You stork around them to increase your circulation. As every German will tell you, Kneiping is good for you.
At day's end, we'd leave the path and descend into a village or small town, find an inn that offered massages and featherbeds, hearty food with local wine, and desserts topped with whipped cream.
But if you'd rather avoid sweat and blisters, you'll want to head for Baden-Baden, the most elegant of Germany's hot springs spas. The Romans, as I just told you, were the first to enjoy the brine that bubbles at 160 degrees F out of the ground. It took the Germans several centuries to catch on to the water's healing powers and its socializing pleasures. Today, posters claim that the springs can cure anything from rheumatism and arthritis to "female disorders." You can drink the water or soak in it, and the best place to do both is the Caracalla, a maze of hot and cool baths, complete with whirlpools and fountains, goddesses and Roman columns.
During its heyday in the 19th century, Germany's emperor and Russia's aristocracy enjoyed spending their summers in Baden-Baden, where you can still gamble away your fortune at the casino, or bet on horses at the famous races. A stroll through the pedestrian zone with its charming cafes, quaint boutiques, and elegant stores reveals Baden-Baden as an expensive place. In fact, the price tags made me wonder how people managed to be fully dressed. At a hat store, I admired most amazing and priceless concoctions. Women still wear them at the races, the owner assured me. "We're known throughout Europe and this hat, for example, will be shipped to Hollywood," he said, pointing to a huge cartwheel, decorated with bows and feathers and a bunch of daisies.
If Baden-Baden is too chic for you, head for Freiburg, a university town in the Southern Black Forest. The city dates to medieval times and clusters around the famous Minster with its filigree tower. Start your walking tour at the cathedral plaza where a farmers market is held every day. The tour will lead past the flaming red trading house, the old and new rathaus, an Augustinian monastery, and two gates from the 12th century. Notice the charming little brooks that run along the narrow streets. They are remnants of the medieval canalization system. While I watched children and young people cool their heels in the clean waters, I imagined how these gullies once flushed away the contents of chamber pots emptied through the windows.
Freiburg has done a remarkable job of restoring old structures, while also earning praise for its environmentally conscious modernization. Electric streetcars whisk you at low cost from one end of the city to the other, while the heart of the old town is left to pedestrians. Apartment buildings line a little river, grape trellises arch the narrow alleys, 20,000 students crisscross on bicycles, and a mild climate wraps it all up to make Freiburg one of Germany's most livable cities. Mountains for summer hiking and winter sports are close by, and at wine festivals in July and August you can taste a variety of local wines.
On the afternoon of my June visit, I had the city almost to myself, because everyone was glued to the TV, watching the German soccer team compete at the world cup. "I hope we'll lose," said one of the few tourists who didn't care to watch the game at a beer garden or pub. "I think we have many more important priorities than this," she added. At game's end, Germany had kicked its way to the finals and Freiburg erupted into mayhem. Students honked, waved large flags and shouted "Deutschland, Deutschland, Deutschland," providing a moment of discomfort.
Discomfort also characterizes the Black Forest tourist and spa industry. For one, Europe's aristocracy has died out or found new playgrounds. And for the common folk, package deals to exotic places with guarantees of perfect weather can't compete with the Black Forest's lure of simple pleasures with possibilities of rain. As for the healing powers of the spas, insurance benefits no longer cover them as generously as in years past. Spa visits with soaks and mud baths, massages and therapies, moderate exercise and leisurely walks, are good for you, as every German believes. Physicians used to prescribe them for seniors every other year and health insurance covered their cost. No longer. Now you are entitled to your four- or six-week spa visit only every three years.
The impact of these changes can be felt in formerly thriving places, such as Wildbad. The town's boom began when an English physician in the 19th century discovered the water's healing powers and recommended the baths to his patients. They came for the whole summer, bringing with them their families and servants—and apparently also their Episcopalian clergy, because the town built a lovely brick English church for their guests. It was a time of royal balls and hunting parties, of music and theatre in the stately park. Today, Wildbad is but a shadow of its former self.
The elegant Summer Mountain Hotel, reached by funicular, went bankrupt four years ago. "Business is bad," said the waiter at a modest restaurant next door. Downtown, life is limping along. Young patients in wheel chairs and on crutches seem to benefit from the thermal baths as part of rehabilitation. Older folks on spa retreats follow their afternoon ritual by meandering through the beautifully landscaped park towards Kaffee und Kuchen (coffee and cake) and the outdoor concert.
I settle among them on the large terrace of a café, opposite the concert shell. As strains of a waltz waft towards me, the waiter brings a generous piece of Black Forest cherry cake. This is good for me, I tell myself. Oh yes, indeed!