Tri-City Herald, Sunday, October 9, 2005
Clans Cruising to Alaska
©Valerie Kreutzer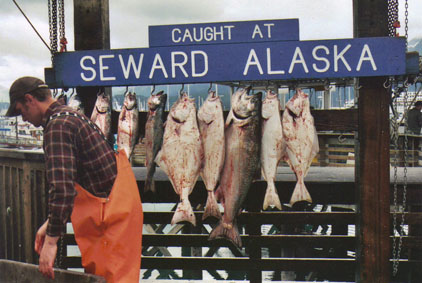 How should they commemorate their 50th wedding anniversary, wondered my sister Claudia and her husband Dick.  World travelers, especially since retirement, they decided that they'd like to celebrate the day on the move, surrounded by their children, grandchildren and siblings. 
That's why nine of us boarded the Norwegian Dream in July for an eleven-day cruise from Seattle through the Inside Passage to Skagway in Alaska.  It turned into a memorable outing of pampered luxury, with adventurous side trips through pristine landscapes of awesome beauty.

Groups are in, singles out
At our first five-course dinner aboard we noticed that ours was not the only family affair.  From babies in snugglies to seniors in wheel chairs, groups of all sizes enjoyed togetherness.  Many, like ours, spanned three generations. 
"My dad died in March and after the funeral my mom said 'let's all go on a cruise,'" said a young woman I met in aerobics.  "There are seven of us.  My two- and four-year-old love to go to the morning and afternoon children's programs," she added.  "I haven't had it so good since before children."
If they didn't belong to a larger group, passengers had definitely boarded in twos, often to highlight a special birthday or anniversary during the cruise.  On the night of Claudia and Dick's fiftieth, the waiters assembled at our table and crooned some oldie with a refrain of  "I love you so…," and then repeated their performance at another table where a couple celebrated their 25th anniversary.  We raised our glasses to cheer them on.
Singles, as my bachelor nephew Mark discovered, were clearly outnumbered.  At a meeting organized by the cruise, only two showed up.  Mark invited a recent divorcee to a rumba dance lesson but their contact fizzled after the last beat.
"During the Caribbean season and especially during spring break we have lots of singles," explained Soozy Atkins, the cruise director.  "Those cruises are only seven days and always very lively.  The Alaska crowd is older, typically in the fifties and sixties.  They have the time and funds for the longer trips and often invite their families to come along."
Great Escapes
With almost 1,900 passengers and a crew of 740, we were a 51,000-ton floating resort town stretched over 750 feet.  The space was crowded since chilly winds and intermittent rain kept us mostly indoors.  Except for the hot and sunny day of our Seattle departure, the swimming pools and sun decks stayed empty, though teenagers enjoyed piling into the hot tubs. 
Our seventh-floor staterooms on the promenade deck felt spacious at 152 sq. ft., had comfy sitting areas and large picture windows showing off forested coastlines,  desolate islands, ragged mountains, and bluish glaciers.
The Norwegian line offers "freestyle" cruising, letting you decide where and when to eat in casual or formal attire.  A daily bulletin offered programs from scholarly lectures on oceanography and the history of the Inside Passage, to exercise classes, art auctions, bingo, and nightly variety shows featuring amateur and professional talent.  One night I tried my luck in the casino, quitting when I was four dollars ahead.
The ports where we anchored offered welcome breaks from cabin fever.
Ketchikan, our first stop, is squeezed onto the edge of an island and clings to steep forested mountains.  Homes on stilts are connected by wooden staircases and long walkways; some carry street names.
Juneau, our second port, is accessible only by sea or air, a special commuting challenge for Alaska's legislators when they assemble in their capital.  Not far from the city's bureaucratic civility looms the gigantic Mendenhall Glacier, a moving river of blue ice with ragged edges.
Skagway at the most northern tip of the Inside Passage, is one of the best- preserved towns of the 1897 Klondike gold rush. A trip on the restored Yukon Railroad to White Pass at the Canadian border took us deeper into the era when mad prospectors surmounted incredible hardships in search of "stacks of yellow metal."
In Seward we watched local fishermen and women unload their bounty in the late afternoon.  They hauled their catch in wheel barrels to a weighing station before cleaning the salmon and halibut in open sheds.  Boisterous competition reigned, especially when the scale tipped over the 200-pound mark.
Prince Rupert in British Columbia was our last stop before returning to Seattle.  Its natural deep-sea port attracts increasing traffic to and from China. "It'll soon rival Vancouver and Seattle," predicted my Canadian brother-in-law, "because it's a day or two closer in shipping time to the Orient."  His suggestion that we all invest in Prince Rupert got a lukewarm reception.
The Norwegian Dream offered a variety of shore excursions at every stop.  You could go on a Harley Davidson motorcycle tour in Ketchikan; watch whales in Juneau; pan for gold in Skagway; go white water rafting in Seward; and watch grizzly bears in their summer habitat in Prince Rupert—to name but a few of the tours that come with hefty price tags.
Kayaking
We chose four hours of sea kayaking in Ketchikan for $127/pp that included a hair-raising ride on a motorized inflatable raft to the Tatoosh Islands in the Tongass National Forest. The excursion became a highlight of our cruise.
"You're so very lucky to have such a beautiful day," our hunky guides kept telling us.  Ketchikan in the rainforest gets only three sunny days a year, according to the locals, and we had lucked out on brilliant sunshine.
Matt, a summer guide and carpenter the rest of the year, gave us a mini lesson on how to operate our two-seaters and then paddled ahead with Danielle and Brittany, the lanky and spirited teenagers in our group.  We navigated around forested islands, maneuvered through rocky passages, strained against waves of the tide, and spotted the wavy grace of dolphins in the distance.
In a sheltered cove we spotted a pair of bald eagles, mated for life.  One of them swooped from its high perch on a Sitka spruce, almost grazing our heads.  Commanding our full attention, the eagle coasted in ever widening circles carried by the breezes, steering with a light flutter of its wings.
We rested our paddles and watched in awe, spectators of a wondrous performance as ancient as Alaska's wilderness.