Tri-City Herald, Sunday, August 15, 2004
In San Miguel, Chickens Come to Roost
©2004 Valerie Kreutzer
A Mexican maid turns artist with help from American señoras.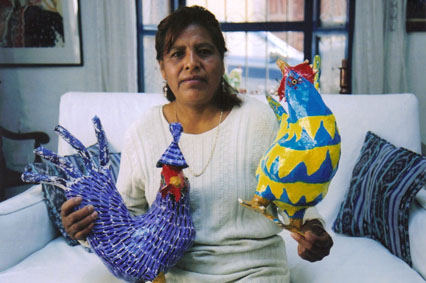 Calle Aldama is a charming cobblestone street between colonial San Miguel's parish church and the city's park.  Its narrow sidewalk winds past mansions that give few clues about the life behind thick walls.  Except for a window at Aldama #17.
Behind iron grates, an open window displays a coop of plump papiermache chickens in outrageous colors and funky designs.  Come in if you want to buy, says a sign.
If you do, you'll enter one of the magnificent mansions dating back to the 17th century when San Miguel thrived from exploitation of nearby silver mines during Spanish colonial rule.
During the turmoil of succeeding centuries, San Miguel survived architecturally intact and is now known as the crown jewel of Mexico's highlands.  Its cobblestone streets, grand mansions, and Baroque churches have attracted many U.S. and Canadian writers, artists, and retirees who have come to call San Miguel home.
Cynthia and Gene Mason from Little Rock, Arkansas, were part of this influx when they restored their mansion on Aldama, calling it mi azul cielo (my blue heaven).  They painted the sky-high rafters a deep blue and left white walls to show off an exquisite collection of local art.  The Masons' home clearly belongs on the roster of San Miguel's famous house and garden tour, and while its ambiance invites exploration, you really came to inquire about the papiermache chickens parading in the window, remember?
Meet Rosa Hernandez Peru who's sweeping and mopping the Masons' meandering home.  She's their maid.  But Rosa is also the creator of the papiermache chickens that attract hundreds of visitors to the house, especially since they have been featured in the popular Insider's Guide to San Miguel.
"Sometimes it's like a zoo here," says Cynthia Mason, sitting in her comfortable living room.  "But I've met some wonderful people, including museum curators and collectors of folk art.  They walk away with chickens stuffed into my garbage bags.  I often stand in the kitchen looking for a bag and they're all gone again!"
Rosa smiles as she keeps mopping.  She's shy, doesn't speak English and gladly lets the senora fill you in on the success of their unique collaboration.
It started when Rosa stood at the door sixteen years ago, looking for work.  "I really didn't want a maid," Cynthia recalls, but then hired her anyway.  Cynthia noticed that Rosa made papiermache fish hanging on strings.  "She used a mold.  Everyone had that mold. You could see the same fish all over town."
And then Cynthia, a business woman with lots of appreciation but no training in the arts, did some papiermache sculpting herself when she joined a group of American women who gathered on Thursdays at the home of Lois Peters, a designer and art teacher.
Lois arrived in San Miguel ten years ago from Boston where she had sold her signature papiermache chickens to top designers and decorators on fashionable Newberry Street.
"I always liked the form of chickens and liked to observe them during visits with a friend in the country," Lois recalls.  "In the afternoon we'd sit on camp chairs, sip our cocktails, and have  the chickens entertain us.  They are so funny the way they snap at each other with jerky movements.  They are poorly engineered, with all this body on little thin legs.  And I love their wattle."
Lois created her papiermache chickens during a long convalescence and watched them fly the coops of decorator stores at $125-a-piece.  When she moved to San Miguel, she produced a few chickens as presents for friends.  They were an instant hit in this artsy town and she decided to teach her craft in Thursday workshops at her home.
Cynthia Mason came a few times, "but my chicken looked more like a kiwi.  I recently threw the poor thing out.  I wondered whether Rosa could do better, and after Lois said she'd be delighted to teach her, Rosa bravely entered the circle of gringo senoras." 
Lois didn't speak Spanish, Rosa doesn't know English, but they communicated through the wire.  That's what you start with, bending it like an arch that ends with three toes.  Then you build up the body with newspaper--in San Miguel it's primarily the International Herald Tribune.  With your hands you shape and crunch a small head ("not much brain here," says Lois), and a longish neck, holding it together with tape.  Finally you wrap the body with strips of brown tortilla paper dipped in glue and then you let the chicken sit to dry.
Rosa came on three Thursdays and returned a few more times to look at Lois' illustrated books—such as The Poultry Fanciers' Library.  That's where I met her three years ago.  In one of Cynthia's black garbage bags she had brought chickens in various stages of completion.  Lois gave her an enthusiastic review, and I decided to buy one.
She had some ready for sale, Rosa said, I should follow her home, cerca de aqui (very close-by).  Not so near, I realized, as we kept walking, leaving gentrified colonial San Miguel way behind, crossing the garbage-strewn trickle of a river, finally entering a barrio with lots of children and barking dogs.  Rosa's gaily-colored chickens sat on the stoop of a shack roofed with corrugated sheeting.  I took my pick and paid ten dollars under the curious eyes of children and dogs.
The price of my collector's item has since doubled and Rosa's output has accelerated at an amazing pace.  "She's come a very long way," observes Lois, her teacher.  "At first, her chickens were very stiff.  Now they are in motion, they have attitude and personality.  And they look Mexican.  She uses all sorts of leftover paint from the paint store, then lacquers them.  She's really evolved.  It pleases me so much!"
Few expatriates can see such direct results of their interactions with local Mexicans.  Many of the approximately 5,000 Americans and Canadians who live in San Miguel support health clinics, scholarship funds, and lunches for thousands of hungry school children--to name but a few of the many programs that benefit the wider community.  But financial support rarely leads to personal involvement.   
Rosa, however, is becoming well known in the gringo arts community.
"Aren't you the woman who learned from Lois Peters?" asks an American matron, perusing Rosa's menagerie at a recent fair.  "Si, senora," Rosa nodds.
The Masons let Rosa take time off and paid for the first stalls at area crafts fairs.  Now she also sells from a recently rented space at the local market.  But the best outlet is still the window on Aldama.  Cynthia, her employer, continues to be supportive and amazed. 
"Rosa sells everything she makes," says Cynthia.  "She could be rich if she didn't have so many relatives.  At last count there were 34.  Her son has eight children, the oldest is 12.  And with that many children you never have enough money."
Asked how her life has changed, Rosa beams:  "We have money for food, now everybody can eat.  And we can pay for light, water, gas, and the telephone."  With her first chicken income she took her brother, a diabetic, to a specialist in Celaya, a nearby town.  Everyone came along for the ride.  Most had never been out of San Miguel.
Rosa used to be cooped in a life with few choices.  Asked how old she is, she shrugs, "maybe 55."  She can't read or write, but signs "Rosa" on the bottom of every chicken's claw. Cynthia can spot the birds even without the signature.
"I was sitting in a pricey restaurant in Jacksonhole, Wyoming, and when I looked up I saw dozens of Rosa's chickens," recalls Cynthia.  "Turns out the owner had been in San Miguel and done some shopping.  And this load will be picked up today and go to Texas," says Cynthia, pointing to her dining table covered with chickens, big-snouted pigs and ferocious dogs.
Will she continue to work for the Masons?  "Si, senora," says Rosa, sitting on her employer's white couch.  "We've been together for so many years and the window still sells best.  But if they ever sell this place, I'm out of here!"  She laughs and lifts her arms in an expansive gesture—like a bird about to fly.