Tri-City Herald, Sunday, December 3, 2000; (Arizona) Tribune, Sunday, April 30, 2000
Living the Good Life in San Miguel, Mexico
©2000 Valerie Kreutzer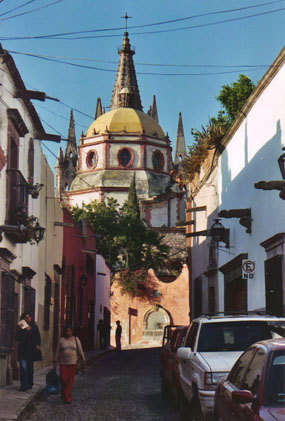 At a recent concert in San Miguel, Mexico, Miguel Messner of the Mexico City String Quartet addressed the audience in English rather than Spanish, explaining to appreciative laughter, "San Miguel is a beautiful American village."
On a map, however, San Miguel de Allende is a colonial town of 70,000, sitting at 6,400 feet in the highlands of central Mexico. Founded more than 450 years ago by a Franciscan monk, it is the birthplace of a hero of the independence movement and a center for the arts.
Its celebrated Instituto de Allende Art School, founded in the late 1930s, attracted former U.S. servicemen who arrived in the 1950s to stretch GI Bill dollars while studying art and learning a new language.
The first artists attracted more artists, to be followed by poets, writers and dancers, entrepreneurs and retirees—some living on a shoestring budget, others arriving with considerable wealth, all enjoying this charming town with a year-round climate of sunny, warm days and cool nights.
At present, about 5,000 Americans and Canadians live in San Miguel; some permanently, other just for the winter months. Their presence has shaped the social, cultural and economic life of the city. A look at the English-language weekly Atencion reveals this impact.
During a week in February, Atencion listed several theater performances, a film festival, three concerts, poetry readings, several lectures and slide shows; outings to nearby points of interest, bird walks and house tours, half a dozen art openings; English-language church services, a mediation workshop and a healing seminar.
Amazingly, this whirl of activity also benefits the wider community, since a percentage of all the proceeds goes to charities and 16 registered nonprofit organizations. "This is a community where people look out for one another," says resident Lee Asheroff.
Take a walking tour of the city to find out. The $10 fee for the tour goes to a foundation that offers free medical care for poor children. With an annual budget of $200,000, the foundation serves 600 rural children each month. That's impressive. So are the credentials of our tour guide, Hal Box, a former dean of the school of architecture at the University of Texas who has lived in San Miguel for the past 10 years.
"The 16th century was a thrilling time," Box explained to a group of 14 Americans and Canadians. "Working with ideas from the Renaissance, Franciscan friars and European entrepreneurs built a city according to their ideals with essentially free materials, labor and land." Box also noted that Europeans' exploits greatly decimated Mexico's native population within this first period of colonization.
Beginning the tour at Plaza Allende, Box explained that the middle of the colonial city is always the tree-covered jardin. It functions like an open-air living room for the residents' enjoyment and is surrounded by a grid of streets. The streets are rooms with walls. "The design idea that makes it work is the patio," Box said. "If you see someone open a door, be sure to peek in!"
Because San Miguel is one of the first towns in Mexico to be designated a national monument, its downtown is free of traffic lights, neon signs and fast-food establishments. Its narrow cobblestone streets rise in terraces to the mineral springs of El Chorro, from where the spikes and cupolas of about 20 churches can be seen.
The neo-Gothic Parroquia dominates the town square. It was built in 1880 on top of an earlier structure and designed, so the story goes, by an illiterate mason who got his ideas from a postcard of a French cathedral.
Across the street is the 18th century Casa Allende, the birthplace of Ignacio Allende, one of the heroes of the independence movement. On the northwest corner stand the palace of the wealthy Canal family, who had come in the 18th century from Spain to profit from silver mining in nearby Zacatecas and Guanajuato.
San Miguel's finest building is the Bealls Artes, housed in an 18th century convent. Since 1910, it has been used as an art and music school. One room still exhibits famed muralist David Siqueiros' experiments of mural painting, created to teach students his art. Bellas Artes and the Instituto de Allende, which is housed in an old hacienda at the edge of town, have become magnets for artistic communities well beyond Mexico's borders.
The town tour stops at the Biblioteca, the public library. It was founded by Americans and Canadians and is an important cultural center for the community. Its courtyard with trailing bougainvillea invites Spanish and English speakers to practice each other's languages in conversation around the tables. The Biblioteca houses a café, a small theatre and Mexico's largest collection of English-language books.
Morton Stith is the library's director of education. "We run 11 programs for about 800 Mexican school children, and also have literacy programs in the countryside," he said. Courses include ancient myths and music with ancient instruments, said Stith, who taught archaeology at the University of California, Berkeley for 40 years before settling in San Miguel 12 years ago. "It's suddenly very expensive here," he said. "We now have a huge number of millionaires who drive up the prices."
The new wealth also has infused the community's outreach programs. The library, for example, funds 250 scholarships for middle, high school and university students each year (Mexico provides free education only through the sixth grade). Cesar del Rio Garcia, who serves on the library's scholarship board, said he was able to attend law school thanks to scholarships from the library.
"There were very few students from San Miguel at the university," said Garcia, now 40. "Students from other towns often argued with us, saying 'You are losing your nationality with all this foreign influence.' But we from San Miguel argued that the influx of foreigners has been good for our community. Their appreciation of our traditions has made us appreciate more what we have," said Garcia, a high school principal and community activist.
He thinks that most townspeople agree with him. "Eighty percent of our economy depends on tourism" he said.
Garcia, who is running for political office, also points out that San Miguel's rapid recent growth has been taxing the community's infrastructure and, unfortunately, "corruption is terrible." Nearby areas that were to be preserved as wilderness, are suddenly sprouting new subdivisions because of illegal deals, Garcia said.
Another concern is the rapidly dropping water table because of increased demand and deforestation along the Laja River, San Miguel's water source. A "Save the Laja" group unites local, national and U.S. Forest Service in an effort to save the river. U.S. Ambassador Jeffrey Davidow recently visited San Miguel to highlight a fund-raiser for the project.
But for now, "life is good," writes James Olsen in the weekly Atencion.
"In the Plaza Civica people are milling about eating flavored ide, tacos and candy from the pushcarts. Children are selling chewing gum, and some old people beg politely asking for some change. I can sit on a park bench in peace, talk to my friends and acquaintances or just mind my own business. Nice that we still have places in the world like San Miguel."
Elsemarie Norby echoed this sentiment. A musician and photographer, she came for the first time five years ago and immediately felt that "I finally had found my place. I feel happy and comfortable here." Like most expatriates, Norby has used her talents for the greater good. She started a madrigal choir for Mexicans, and a recent Unitarian church service featured her children's choir of orphan girls dressed in white.
Marlene Johansing has visited San Miguel for nine years and finally bought a house and trucked her furniture from California. "Life is easier here," she said. "I can walk everywhere. I feel safe and can live without an alarm system. It's also a good place to get old. The cost of nursing care is a lot less, and you could afford full-time care while staying in the comfort of your home here."
Johansing, a former real estate broker, has thrown her energies into pottery, but also helps organize garden tours that benefit the Biblioteca.
What makes the place special, she insists, is the Mexican people. "They are very gentle and very friendly," she said. "Just observe how they share with beggars and people less fortunate. Their way of caring for one another is really inspiring."