Tri-City Herald, Sunday, December 3, 2006
Ottawa—Canada's Capital for All Seasons
©2006 Valerie Kreutzer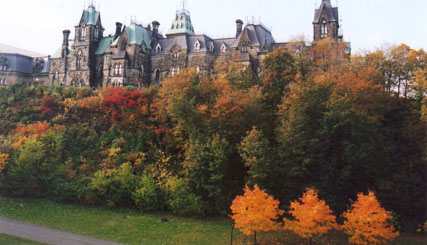 On this cloudy October day, Ottawa's neo-Gothic Parliament Buildings are framed by the golden-red-orange hues of the compound's deciduous trees.  Their spiked copper roofs rise majestically on a limestone escarpment above the Ottawa River.  Go ahead, be dazzled by the grandeur of this capital's most famous landmark!
But you should come in the winter, say the locals, when the canal that winds through downtown freezes over.  When bureaucrats, clutching their briefcase, skate to work and parents push bundled babies across the ice.  When vendors sell hot chocolate at fire pits and Ottawa makes a virtue out of being the world's second coldest capital—right after Mongolia's Ulan Bator.
Or come in May when millions of tulips burst forth in a rainbow of colors.  Or in the summer when 125 soldiers in busbies and scarlet tunics perform their synchronized maneuvers on the Parliament's lawn. 
But we're content to visit this civilized capital of 800,000 for three days in October.  Though we just missed the big pumpkin weigh-in, when monsters from all over can hit the scales at 1,000 pounds, an abundance of pumpkins and goblins line the outdoor market in cheerful recognition of the season.  Everywhere you look, fall colors outline rivers, canals, and sandstone buildings.
For a bird's eye view of the city's layout and environs, we ascend Parliament's 300ft Peace Tower, offering splendid views in all directions.  The mighty Ottawa River sweeps around the northern edge of the city, giving way to the rolling hills of Gatineau Park, a wilderness area that covers 140 sq miles.
Most of Ottawa's attractions are clustered south of the Ottawa River along the Rideau Canal that curves through the city and divides downtown into east and west.  The canal connects the Rideau River with the Ottawa and was built in the wake of the 1812 war between England and the United States when Canada served as battleground.  British military leaders decided to build the canal for warships to protect against future invasions by the Americans.  The shantytown that grew out of the canal's construction site, ByWard Market, is today Ottawa's trendiest place for shopping, dining, and entertainment.
It was Queen Victoria who chose Ottawa to become the country's capital in 1857, in favor of Montreal and Toronto.  On a map spread before her, the queen's roving finger pointed vaguely to the fledgling settlement between Ontario and Quebec, the English and French provinces that now flavor Ottawa's bi-lingual culture of British sophistication and French laissez-faire.
In most provinces, Canada's bilingualism is reduced to perfunctory labels, but in Ottawa it is an ingrained habit.  "Hello, bonjour," is the typical greeting in offices, stores, and restaurants. Depending on your response, the conversation will continue in either language, sometimes in a mix of both.
You get a taste of the cultural mélange sitting in the grand green chamber of the House of Commons where members against tall stained-glass windows hotly debate a proposed U.S.-Canada agreement. Earphones in the public gallery provide translation, while arguments fly flawlessly in both English and French.  At stake is a softwood lumber accord that would end a two-decade dispute with Canada, the United States' largest trading partner.  Pro and contra arguments fly with fitting civility between the "honorable" ladies and gentlemen.
Moving up to the stately red chamber of the Senate, we just missed a so-called question period when cabinet ministers are held accountable for government policies.  A bell signals time out for a roll call and senators are milling about or lining up for a word with the white-wigged and black-robed speaker.  She presides from a ceremonial chair at one end of the chamber and enforces parliamentary rules for the majority sitting on the right, and the opposition on the left.   
Don't leave the Parliament complex without a visit to the cat shelter hanging on a cliff.  Drop some coins into the donation box for the self-appointed guardian of dozens of stray cats.  He feeds them, has them spayed, and shelters them in little huts.  The catman and his entourage are as quirky coda behind this mighty fortress of parliamentary democracy.
Walking along the river for the best view of the Parliament Buildings, we pass the monument to peace keepers, three larger-than-life bronze figures surveying the land.  Canada is proud of its peace keeping role in conflicts throughout the world and has fought in two world wars. Though it refused to participate in the U.S.-led invasion of Iraq, Canadian soldiers are currently fighting and dying in Afghanistan. A bunker-like new War Museum tells the story of the country's war involvements through memories of ordinary citizens, as well as artifacts, and documentaries.  During our brief visit to the museum, groups of school children roamed the halls and make-believe trenches.  "Lest we forget," and "N'oublions jamais" are reminders emblazoned in Morse code on a wall.
Since the sun has come out, we're headed for hiking trails in Gatineau Park, only 15 minutes from downtown. Maple and oak trees are exploding in dazzling displays of fall foliage. Gatineau's pleasures are year-round, from camping, biking, skiing, to swimming, fishing, and canoeing on its many lakes.  Beware of black bears, warns a sing.
"This is where I go cross-country skiing in the winter," my friend Mary Dickson explains as we hike along.  "During our first year here, temperatures went down to 40 below zero," says Mary who arrived two years ago with John, her diplomat husband.  "I like the cold.  You just bundle up and make a sport of it," says Mary who has spent most of her life below the equator. 
In search of supper we head for the ByWard Market, Ottawa's oldest historic neighborhood.  It's a bustling place and social melting pot for bureaucrats, students, tourists, and the diplomats from 120 embassies.  We skip getting a beaver tail, a deep-fried local fast-food specialty (sans fuzzy fur); we pass a number of pubs with micro breweries, study the menu of a Middle Eastern restaurant, and settle on Domus for its white table cloths.  John knows the right Canadian wines to go with the seafood appetizer, followed by lamb with seared fall veggies. 
While we dig in, Mary, a seasoned foreign service spouse, spots a dark-suited man with an earpiece eating at a single table.  "Secret service," she confides with a whisper and then scrutinizes the patrons, wondering who needs protection.
We're clueless until the man behind me, having finished dinner with his friends, gets up to leave.  "Paul Martin," Mary exclaims.  He's Canada's former liberal prime minister.  Exiting, Martin nods a friendly "Good-bye, au revoir." 
That's Ottawa, a city of genteel surprises.