Tri-City Herald, Sunday, August 6, 2006
Romania's Painted Churches are Backdrop to
Peace Corps Tour
©2006 Valerie Kreutzer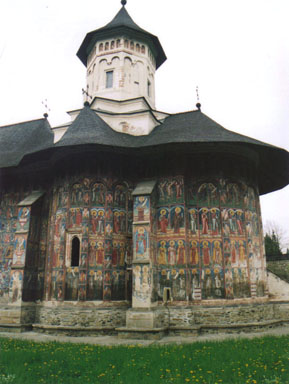 The nun at the monastery in northeastern Romania recognized my friend Pat McGovern and let her in for free.  During her two years as a Peace Corps volunteer in nearby Gura Humorolui, Pat had visited the Humor monastery many times, often with company in tow.
"Humor is my favorite among the painted churches," said Pat as we settled on a bench in the monastery's tranquil courtyard.  The setting invited contemplation of medieval times when the region's monasteries served as Christian bulwarks against invading Muslim Turks.
From the top of the nearby tower we could survey the monastery's bucolic surround of rolling hills and fertile pastures.  A thick wall protects the compound like a fortress.  Here villagers gathered when threatened by infidels.  While nobles and clergy sought sanctuary inside the elaborately painted church, illiterate peasants and soldiers remained in the courtyard and learned about the bible and Christian legends from frescoes painted onto the church's exterior walls. Cartoon-style sequences tell the story of Adam and Eve or the heroics of St. George who slew the dragon.  Amazingly, these 500-year-old paintings have weathered the region's harsh climate relatively intact. 
The images' endurance is due to a superior lime base applied to the masonry walls. Add to that colors derived from natural sources, such as black from charcoal, red from copper carbonate, and blue from lapis lazuli.  At the Humor Monastery red dominates; at the nearby Voronet Monastery, it is lapis lazuli, known in the art world as "Voronet blue."
Voronet is also famous for a spectacular Last Judgment filling its entire western wall.  Against a brilliant blue background appear a multitude of angels, patriarchs, apostles, church fathers, wild beasts and non-believers.  Christ hovers at the center in final judgement.  Through a red chute to his left tumble the wicked to be greeted by the devil in hell.  Turbaned Turks are part of the descending pack.  It is said that Voronet's magnificent Judgement rivals Michelangelo's Sistine Chapel, painted around the same time.
Both monasteries, Humor and Voronet, are within walking distance of Pat's home in Humor Humorolui.  "This is probably my farewell visit," she said with a twinge of regret.  Her assignment is about to end.
Life of a Peace Corps volunteer
For the past two years, Pat has taught English at a middle school in this little town near the Ukrainian border.  The sparsely populated region in the foothills of the Carpathian Mountains is called Moldavia or Bucovina and seems at the end of the world if you consider trekking there.  After the flight to Bucharest, Romania's capital, the six a.m. rapid train takes you within seven hours to Suceava, Moldavia's capital.  From there it's a 90-minute taxi ride to Gura Humorolui, home to 15,000.
Pat's two-room apartment in a Soviet-style crumbling housing complex has the basics of bed, table and chairs, a little fridge in the hallway, a stove without knobs, and hot water for just a few hours in the evening.  The grandchildren in Seattle provided art for the bare walls.  'Noi dumneata (we love you), Grammy' proclaims a banner that has served as important reminder, especially during the first few months when neighbors greeted Pat with frowns and skepticism.  Their manner changed once they learned of the newcomer's enthusiasm for everything Romanian and her consistently friendly and respectful interactions at school, in the market, and along the way.
"You teach my Mihaela," beamed a kerchiefed grandma selling Pat a bunch of white tulips on market day.  "Oh yes, Mihaela," acknowledged Pat, adding as aside, "she's a handful."
Most of her 156 charges are.  They are middle schoolers, after all, with raging hormones that transcend national boundaries.  Holding forth for six hours in a classroom can be exhausting, especially when students don't pay attention or are disruptive.  It's the end of the school year and Pat keeps it lively with games and quizzes.  "Name three games you like to play," she asks.  Computers top the lists.  Moldavia may seem like the end of the world but it's wired to the 21st century.
Just observe the nuns at the monasteries. They are as likely to talk on their cell phones as shouldering a rake while they scurry about their compounds in black garb.   Under the ruthless regime of communist Dictator Nicolae Ceausescu they had almost become extinct and their properties had suffered from neglect.  But since the dictator's fall in 1990, the Orthodox church rules again, novices flock to expanding nunneries, and seven monasteries are now safely under UNESCO's World Heritage umbrella.  The most famous among them are Humor, Voronet, Moldovita, Sucevita and Arbore.
At home in another culture 
On Pat's day off we packed a picnic basket and set off in pursuit of a few more painted beauties, the most impressive in Sucevita.  Entering the fortress-like compound we are immediately confronted with a wall depicting a ladder of divine ascent.  It symbolizes a pilgrim's progress between a flock of angels on one side and the chaos of demons on the other.
During her two years in Romania, Pat got to know her demons, such as loneliness, but also met an unlikely angel in the shape of Cristi Maganu.  He's our effervescent taxi driver who careens with his jalopy over bumpy country roads and gladly stops for our photos of haystacks and horse-drawn buggies.  Cristi, who learned his English from American television shows, easily befriends tourists and often brings them home.  "This is like in 'Dallas,'" he says pointing to the staircase in his house.
Pat has spent many Sunday afternoons in Cristi's kitchen, enjoying his wife Georgeta's excellent cooking, and—best of all—rocking Stefana, the couple's new baby.   Georgeta gets misty-eyed when thinking of Pat's impending departure.
"I joined the Peace Corps at sixty hoping to immerse myself in another culture," Pat observed.  "I'm glad I did."