Tri-City Herald, Sunday, February 8, 2004
Taste of Thailand
©2004 Valerie Kreutzer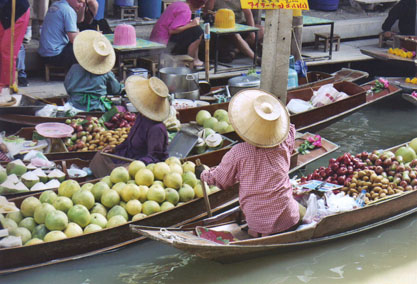 During a recent trip to Thailand I found food the country's prevailing aroma.
On arrival at my hotel in Bangkok, the Viengtai, the pungent smell of exotic food lured me quickly towards a lavish buffet.  I heaped my plate with dishes that teased, taunted and tickled the taste buds and was prepared without regard to wimpy western palates.  Bring it on, I thought, as I wept and blew into my hanky.
But there was more than the hotel's fabulous fare.  Outside the Viengtai in the trendy district of Banglamphu you could walk for blocks and find both sides of the street lined with the street vendors' steamy woks, surrounded by chairs and little tables.  Here you could point and pick sautéed squid, curried chicken or coconut soup for less than a dollar.
Street fare is ready from early in the morning until midnight.  Pad thai, the rice noodle omelet, is as popular at six in the morning as at eleven at night.  Office workers, taxi drivers, and students often crowd around the cook who prepares one portion at a time.
I loved watching the cook's quick hands fly between containers, adding sauces, spices, tofu and sprouts while her spatula vigorously stirred, turned and scraped the noodles, held together by an egg.  Voila, here was fast food with flair and flavor!
And then there were the noodle shops offering an endless variety of soups.  "Great for breakfast," said an enthusiastic Canadian in the hotel's dining room and promptly choked on a tiny green pepper swimming in his broth.
I bought my bowl of perfect soup from one of the vendors in the floating market at Damnoen Saduak, a two-hour bus ride east of Bangkok.  Most of the wooden canoes, paddled by women in broad-brimmed hats, are laden with fruit and vegetables.  But some are floating kitchens.
My noodle lady had her stuff neatly sorted all around her.  She scooped noodles from a pot behind into a wire basket attached to a long stick.  She soaked the noodles in boiling broth and then added meat, fish, herbs and spices from little bowls sitting on the bench before her.  She handed me the plastic bowl, waiting for approval.  "Aloi (delicious)," I said.  She beamed.
By the time I arrived in Chiang Mai, Thailand's northern capital, my culinary curiosity was ripe for a cooking school.  No problem, said the tour operator at my guesthouse, the Lai Thai, and enrolled me at the Chiang Mai Thai Farm Cooking School.
At eight in the morning, a friendly middle-aged Yupa pulled up in a van to take me and five other farangs (foreigners) to a place in the country.  But our first stop was the market with its heaped bins of rice. 
"For Thai people, rice is the most important ingredient for each meal," explained Yupa whose English was good enough to comprehend.  "We eat it all day, for breakfast, lunch and dinner.  Kin khao, to eat, literally means 'eating rice.'"
The most popular types are sticky or jasmine rice, she said, taking a handful from each heap to let us examine the difference.  Rice gets soaked for a few hours and then steamed in electric cookers or bamboo baskets.
The other attraction in the market was a juice machine that squeezed coconut milk out of the white pulp and mixed it with the fruit's watery liquid. Yupa bought half a gallon from the vendor who poured the creamy liquid into plastic bags and expertly tied them with a rubber band.
Half an hour later our van arrived at a fruit and vegetable farm surrounded by green mountains.  What a relief to escape the noise and pollution of Chiang Mai, an industrial city.  We breathed in the clean air and appreciated the quiet beauty of the countryside.
Yupa offers straw hats for a walk through the garden.  She digs up roots of lemon grass and puts them into her basket, asks us to pick eggplants, the size and color of green tomatoes and peas, and explains the difference between the many kinds of chilies: long, fat, small, green, red and yellow.  The smallest are the hottest, she warns, and I remember my coughing Canadian.
Returning with our cache of chilies, shallots, kaffier leaves, and garlic, we are ready to prepare our first dish, kaeng kiao waan gai, green curry with chicken.
The school is housed in two structures.  We prepare and later eat in an open shelter that sits on stilts in a pond.  Over a little bridge we walk to the kitchen equipped with individual propane-fired stoves.  In the course of the day we shuttle back and forth, with Yupa guiding each step, while three other women assist with preparations and cleanup.
Making chili paste is a basic for Thai cooking.  It calls for ten ingredients that are ground together with a granite pestle in a mortar.  My pestle weighs at least five pounds.
"This will take care of the granny flab," comments Thar, a slender nurse from California who has no flab.  Like many backpackers, Thar and her husband are taking several months to trek through Southeast Asia.  After Thailand, they plan to visit Burma, Laos, Cambodia and Vietnam.  She hopes to volunteer in a clinic in Vietnam and visit Cambodia's famous temples at Angkor Wat.  But cooking is on top of her agenda in Thailand.
Thar likes it hot.  That's why she substitutes red for green chilies.  "Keep pounding," Yupa admonishes as she checks the mush in our mortars.  It's hard work.  From hereon I will always recognize the sound of chili in the making.  Later in the little mountain village of Pai, for example, with my room in the guesthouse next to the kitchen, I'd awake every morning to the rhythmic banging of a pestle hitting granite.
Once Yupa declares our chili good enough, the cooking can begin.  We start by heating coconut milk in the wok on our little stoves.  As the creamy milk begins to foam, we stir in the chili paste and chicken pieces.  When the chicken is almost done, we add two types of eggplant and onions, and stir in sugar and fish sauce.  We add chopped kaffir and lime leaves and a bunch of basil. 
"Taste it," Yupa commands.  "Does it need more salt, sugar or fish sauce?"  We experiment.  "Yummy?" she asks.  "Aloi," we answer.
By lunchtime we've added fish cakes, papaya salad and lemon grass soup to our sumptuous meal and are ready to dig in.  Thai women cook only once a day, Yupa explains.  Dishes are served at room temperature throughout the day, but rice should be hot.
You serve food family-style and estimate one dish per person, she says.  Soup and salad are side dishes and part of the main course.  You put some rice on your plate and then add spoonfuls from the various bowls.  Spoon and fork are your tools.  You hold a spoon in your right hand, a fork in your left.  No need for a knife because meat, fish and vegetables are prepared in bite-size chunks.  You may use your right to form little balls of the sticky rice and dip them into the sauces—"just like that!"  Yupa twirls and dips.
We taste each other's cooking.  Thar's is the hottest and makes us reach for Kleenex.  We talk and linger over lunch and eat more than we should.  The open shed invites cool breezes and makes us think of lazy naps in swinging hammocks.  But Yupa has more active plans.
In the course of the afternoon she shows us how to make baskets out of banana leaves to steam a fish soufflé.  She also demonstrates how to use banana leaves to wrap up a concoction of bananas, sticky rice with beans, and coconut milk.  Steamed for half an hour, it turns into a gooey sweet dessert.
Yupa praises the virtues of bananas.  "Bananas and honey in the morning make our men strong.  No need for Viagra!"  We make a mental note.
Our last recipe is pad thai, Thailand's most popular fast food.  It calls for 16 ingredients.  You must stir fast and furious, advises Yupa.  As she makes her rounds she grabs my spatula to demonstrate.
"You must stir harder," she says. "Your noodles are too soft.  But some Thai people can't make it good either."  I think she means to be encouraging.
In the end, we carry away enough plastic bags of food to feed a village.
Better yet, we get to keep the little book of recipes that's been guiding us throughout the day.  Its pages smudged by chili paste and soy sauce, my booklet is a treasure trove of culinary delights to share and enjoy for years to come—the best souvenir from a sojourn through Thailand.