Tri-City Herald, Sunday, February 16, 2003
Taxco, Mexico's Silver Capital
©2003 Valerie Kreutzer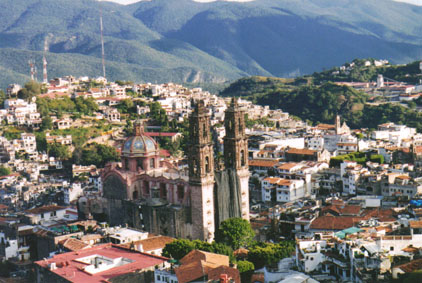 At an elevation of 5,700 ft., Taxco clings like a bird's nest to the Sierra Madre Mountains, about 120 miles southwest of Mexico City.
To appreciate the magnificence of its setting, I took the gondola to the top of Mount Taxco at the beginning of a recent three-day visit.  Pine forests, waterfalls, the faint outline of Mount Popocatepetl are the backdrop for this charming town dating back to Colonial times. 
Its red-roofed, whitewashed houses line cobble-stoned streets that zigzag along steep slopes.  At the center of this maize sits the majestic Santa Prisca y San Sebastian Cathedral, a jewel of Mexican Baroque.  In the evening sunshine, the church's red sandstone cast a pink glow over the entire city.  This place is steeped in history and has more to offer than its 300 jewelry stores, I realized.   
Returning to town past Los Arcos, the remaining arches of a 16th century aqueduct, I came upon the sign for the main tourist office.  Why not hire a guide and get an insider's tour, I thought, and promptly met Ernesto who hung around the office.
Sure, he said, he'd be glad to show me his city on a walking tour.  For just ten dollars, because I seemed such a nice person.  He would meet me tomorrow at ten at my hotel, a stone's throw from the cathedral, no problema.  And since I didn't have change for the combi to take me back to the center, Ernesto advanced the three pesos (30c) and instructed the driver to let me off at the right place.  The locals respectfully squeezed together to make room on the narrow benches on the VW van.  "Hasta manana (see you tomorrow)," we waived.
Next morning I waited for my man.  And waited.  And finally called the tourist office.  "Ernesto??? There's no Ernesto in this office."  And then:  "Ernesto!!!  He's loco (crazy) and certainly no tour guide," informed my new man, Juan Mena, who was certified, and experienced, and fluent in English, and would do it for $40.  Well, O.K., for $25 because I seemed such a nice person.  And thus Juan and I set off for the centerpiece of this lovely town, the glorious cathedral.
On our way, we passed through the labyrinth of a lively market that offers anything from antiques and silver jewelry to live chickens and sturdy shoes.  At the end of October the market was crammed with papier-mâché skeletons, chocolate skulls, and hand-dipped candles in preparation for dia de los muertos (day of the dead, Nov. 1), Mexico's most important holiday.
Santa Prisca y San Sebastian, Juan informed, was built in only seven years and was entirely financed by Jose de la Borda, an enterprising Frenchman who had come to Taxco in search of silver wealth.
The Spaniards had discovered silver ore near Taxco after the Conquest of 1521 and made it the center of Mexico's silver industry.  However, when Borda arrived two centuries later, some mines were already depleted.  Legend has it that Borda almost left in disappointment when his horse dislodged a rock that revealed untapped arteries.  The new discovery made him the richest man in New Spain.
A devout catholic, Borda summarized his fortune in the motto: Dios da a Borda, Borda da a Dios (God gives to Borda, so Borda gives to God).  A huge mural at the hacienda-style Hotel de la Borda depicts Borda receiving silver from the miners and handing coins to the church.  
The cathedral, consecrated in 1758, is Mexico's finest example of the Churrigueresque style, named after the Spanish architect Churriguera.  It relies on exquisite craftsmanship in carved, gilded altars, elaborate stucco, and lace-like stone carvings.  Santa Prisca y San Sebastian has 12 gilded altars, several paintings by famous Mexican painter Miguel Cabrera, and a large German organ brought from Veracruz on the back of mules, pipe by pipe.
Borda spared no expense and went almost bankrupt in the course of building the church.  He had two children.  His daughter became a nun, and his son served the cathedral as priest for 18 years.
Borda's source of wealth, silver mining, continues to this day, said Juan.  Visitors are welcome at some of the mines where a workforce of 1,600 men harvests iron, zinc, silver, gold and semi-precious stones at a depth of over 2,000 ft. 
For centuries, these materials were shipped to far-away places, until an American architect and designer, lured by his love for pre-Colombian art and indigenous design, arrived in Taxco in 1929.
William Spratling came from New Orleans where he had taught at Tulane University.  Surveying the abundance of metals and the lack of local craftsmen, Spratling observed: "Certain materials have the right to be worked in a given community because they are native to that area and the work of the designer is to utilize these materials and to dignify them." 
Don Guillermo, as he became affectionately known, hired the first silver artists and started a workshop that grew to train over 400 silver smiths.  By the 1950s, Taxco was firmly established as Mexico's silver capital, and Spratling is credited with starting a silver renaissance that continues to this day.  Silver jewelry from Taxco has been coveted in Rome, Paris and New York, and Spratling's, as well as some of his students' designs, have become collectibles. 
"At least one member in each Taxco family is in some way involved in the silver industry," said Juan, explaining the abundance of shops and outlets that dot the city.  One of the finest is the gallery of Emilia Castillo, the daughter of Antonio Castillo who had learned the art from Spratling and went on to make a big name for himself.
Emilia Castillo's silver pitchers, goblets, and trays are fit for a king and carry matching price tags.  A silver bowl with malachite parrots costs $2,000.  When former President Clinton came to visit, Juan told me, Mexico's president gave him a set of dishes with delicate silver designs smelted onto ceramic plates.  My guess is that they're safely stored in the White House attic.  Barbecued spareribs wouldn't look right on these plates.
Down the street, the Silver House of Antonio Pineda, another Spratling protégé, displays dazzling jewelry and sculptures.  Works from Pineda's workshop, said Juan, regularly win first prizes in annual competitions.
By now I had admired enough silver to ruin my appetite for owning any.  Ignoring the pase, pase (come in) of the shopkeepers, I bid my Juan farewell and crawled up the steep hill to the Guadaloupe Church.  The young man ahead, I noticed, walked in serpentines and I tried to imitate his steady stride.  Breathless I arrived at the scene of a quinceanera, the rite of passage for fifteen-year-old Mexican girls. 
She was a princess in her lacy, purple gown, flanked by an entourage of tuxedoed  young men.  They posed in front of the church, right after mass.  She looked a little bored with the endless ritual of picture taking, surrounded by the proud women of her family.  Later I spotted her with her young men and girlfriends happily romping around Plaza Borda, the place to be on a Saturday night.
The little plaza next to the cathedral was bursting with balloons, music, color and smells.  It was packed with vendors, musicians, locals, and tourists.  Most of the tourists were Mexicans.  Foreigners, Juan had explained, come to Taxco usually on day-trips from Mexico City, Acapulco or Cuernavaca.  Buses unload them for shopping sprees at the silver supermarkets on Avenida de Plateros, outside town, because the large buses can't navigate the narrow alleys.  There were few foreigners on Plaza Borda participating in the exuberance of this Saturday night.  The fiesta lasted into the wee hours.
Good thing I had brought my earplugs to get some sleep, because on my last day I wanted to learn more about William Spratling, the American who started Taxco's silver renaissance.
His house is now a museum, displaying his private collection of pre-Hispanic artifacts and design drawings.  The collection reveals Spratling as a great lover of Mexican art and its archeological treasures.  With his genius he was able to combine existing folk art traditions with contemporary art deco designs, resulting in a new and exiting art form.
To accommodate his expanding workshop, Spratling bought a hacienda near Taxco Viejo.  Would it be open on a Sunday, I asked the admissions man at the museum.  "Claro," he said.  And thus I ventured into the country on a combi, first getting stranded next to a dilapidated church and some goats, then hitching a ride to the iron gates of the Spratling Hacienda, decorated with the master's well-known initials.  A sign pointed to the bell for visitors. 
After a long wait a gray-haired man in baggy overalls appeared.  The hacienda was closed on Sundays, he informed.  He was deaf to my pleas and remained unmoved by my story that I had come all the way from Seattle.
"Cerrado!" The gate remained closed.  Well, I'll just have to come back some day, I decided.  Besides, I still owe loco Ernesto three pesos for that combi fare.