Tri-City Herald, Sunday, March 18, 2001
Vienna's Many Coffeehouses Steeped in Tradition
©2001 Valerie Kreutzer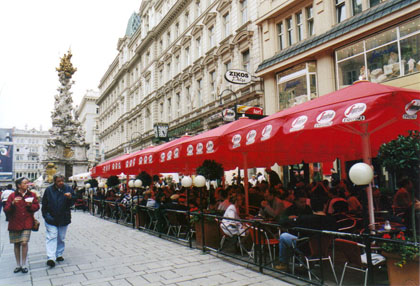 The Viennese love their coffee, but they rarely carry their cups through Austria's capital.  Their love affair with the brew is still celebrated without paper or plastic and a visit to one of Vienna's coffeehouses transports you back to the 1700s when the craze began.
According to legend, the Turks left sacks of unroasted coffee beans when  Western Europeans forced their retreat in 1683.  The Viennese mistook the beans for camel fodder, but an enterprising Armenian, familiar with the brew, roasted and ground the beans to serve the "Turkish drink" in his first café. 
In the 18th century under Empress Maria Theresia, Vienna had 800 coffeehouses.  They were a refuge from life's drudgery, a place where you could get warm in the winter, find a needed pair of shoes, and catch up on gossip.  Cafes also became a place where artists, writers, and musicians tossed around ideas, wrote their novels and composed their minuets. 
Two hundred years later, the Austrian writer Stefan Zweig reminisces in his autobiography:  "The Viennese coffeehouse is a particular institution that is not comparable to any other in the world.  As a matter of fact, it is a sort of democratic club to which admission costs the small price of a cup of coffee.  Upon payment of this mite every guest can sit for hours on end, discuss, write, play cards, receive his mail, and, above all, can go through an unlimited number of newspapers and magazines."
Today, Vienna's coffeehouses are still treasured institutions, as I discovered during a recent visit.  With my friend Brigitte, a local photographer, we set out to explore coffeehouses on a Sunday afternoon.
When the first café was crowded, we found another one only half a block away.  "No need to wait," informed Brigitte.  "Only Americans would think of patiently queuing outside."  With 1,900 cafes to choose from, there's always a table somewhere awaiting you.
We found ours on the sidewalk of the Café Braeunerhof in the Stallburggasse, a stone's throw from the Hofburg, the former imperial residence.  On Saturday and Sunday afternoons, a trio entertains and strains of a waltz enveloped us on this balmy day of fall.  Some of our neighbors came to talk, others buried themselves in newspapers, strung on wooden staffs for better reading.  No need to buy the International Herald Tribune.  Just go to a café and read it for free.
Our black-suited waiter with a gold chain dangling from his vest dashed by to take our order.  It's good to know the name of your favorite choice, because ordering "a cup of coffee" would get you nothing but a blank stare.  There are dozens of varieties, some topped with whipped cream, others laced with alcohol, all of them from espresso machines and individually concocted.   My "Melange" approximated a latte and came in a china cup with saucer on a silver tray, with a little glass of water that's topped with a spoon.
Like other patrons, we lingered for an hour over our cup and could have stayed until midnight, no one would ever suggest that you leave.  In fact, it is good form for waiters to ignore the first request for a bill.  Orson Wells, who was cast in "The Third Man" in Vienna, once said:  "A Vienna café is the only place where you can sit unmolested for eight hours or longer, drink a single cup of coffee, and still be treated like a king."
In search of Vienna's famous pastries, we went next to Café Demel at the Kohlenmarkt.  Demel was the caterer to the imperial court and has been in business for 200 years.  Its pastries are almost too beautiful to eat.  And its interior of chandeliers, mirrors and mahogany paneling makes one gasp.  The café's historic guest list includes Beethoven, Lenin, Queen Elizabeth II, and Presidents Kennedy, Nixon, and Carter.
Many professionals, artists, and students like to frequent their special locale or Stammcafe, Brigitte explained.  The Café Central in the Herrengasse, for example, was a favorite with writers Stefan Zweig and Karl Kraus.  Zweig recalls in his autobiography that one Austrian writer spent so much time in the café that he had his mail delivered there.  Leon Trotsky also was a steady customer and is said to have plotted there the Russian Revolution while contemplating his chess moves.
The Museum Café in the Friedrichstrasse, designed by Art Nouveau architect Adolf Loos, was frequented by painters of the period, such as Gustav Klimt and Egon Schiele.  A number of cafes are now under national landmark protection; among them  Café Landmann, a favorite with politicians and actors from the nearby Burgtheater, and Café Schwarzenberg, where spies in their trench coats used to meet during the Cold War.  Both cafes are on the Ring, the grand avenue that circles the core of the city.
Not all of Vienna's cafes sparkle with silver and glitter with pedigrees of fame.  Some have adopted the seediness of their poorer neighborhoods and can't boast a guest list of world renown.
But one, Café Hawelka in the Dorotheergasse, combines a run-down look with funky elegance.  The café's furniture is at best Salvation Army vintage and its walls are covered with faded posters and memorabilia.  Oil paintings and watercolors were given by starving artists who needed to settle long-overdue bills.  The informality of the place extends to the pastries on large platters.  Take what you like, let me know what you had when you pay.  Since the end of World War II, the unassuming Hawelkas have hosted here leaders in art, music and literature.  Among them: Arthur Miller, Guenther Grass, Andy Warhol, Andre Heller and Herbert von Karajan.
On our coffeehouse tour we skipped a few coffee shops that offer American-style "coffee on the go."  Complete with Starbucks-like logos, these recent imitations of the American coffee chain try to fill a need and a niche for the younger crowd on the fast track.  Will they reverse 300 years of coffee tradition and rituals, I asked my Viennese friend.  "No way," said Brigitte.